Local, Family Owned Pest Control Company with Multiple Locations in Florida
---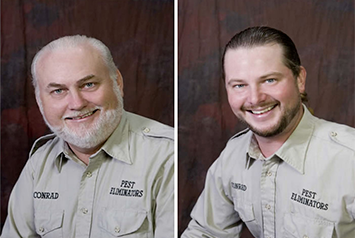 My son and I are licensed for "Pest Control" and both types of "Termite Services" you might need.
We are committed to providing safe affordable pest control and termite services to the communities we serve, and we're one of the few companies that can handle almost any problem you might have. Our technicians are fully uniformed and our trucks are full-sized and fully equipped to solve any pest problem you may have.
Our Pledge to You:
We will ensure each technician has had a background check and proper licensing and identification.
We will provide the best-trained technicians in the industry.
We will ensure each of our technicians has all the necessary equipment needed to do a complete job.
We will offer personalized treatments to each customer.
We will treat each of our customers as we would like to be treated.
We will keep our appointments on time or to call in advance.
We will standardize pricing for everyone.
And we will always have our pricing be on the low end of the industry average, as established by our top three competitors.
Our Pledge to Our Employees:
We will provide our employees with the most liberal compensation program in the industry.
We will pay our technicians above the industry average, because we expect more from them.
We will provide each technician the safe environment and company uniform.
We will provide the most up to date procedures, equipment and trucks available.
We will foster education that is far above the state requirements by paying for related education.
We will treat each employee as we would like to be treated.
Areas We Typically Service:
Alva, Bonita Springs, Cape Coral, Estero, Fort Myers, Lehigh Acres, North Fort Myers, Pine Island, Sanibel Island, Marco Island, Naples, Port Charlotte, Punta Gorda, Rotonda, West Florida, Bradenton, Englewood, North Port, Sarasota, Venice, Clearwater, Saint Petersburg, Tampa Bay, Plant City, Lakeland, Winter Haven, The Greater Orlando Area.
We appreciate your considering Pest Eliminators Inc. to protect your home from unwanted pests, rodents, termites and insects. To learn more about our individual services, click on the buttons below: